What is VOY?
Vision of You (VOY) is an interactive, self-paced online sexuality education program that uses engaging video, animation, interactive components, and gamification principles to provide information, skills, and change behavior.
Goals of the Program
A reduction in the frequency of sexual activity.

A reduction in the number of sexual partners.

An increase in contraceptive use.

An increase in adulthood preparation subject knowledge and skills (healthy relationships, healthy life skills, parent-child communication, and adolescent development).
What Students Have to Say About VOY
Park Scene - Red/Green Flags Game
During this activity your student will identify red flags or unhealthy behaviors and green flags or healthy behaviors of relationships.
This activity takes place towards the end of a unit after students have learned about red flags and green flags, seen videos of teens in examples of both healthy and unhealthy relationships, and have learned about clear and effective communication with partners.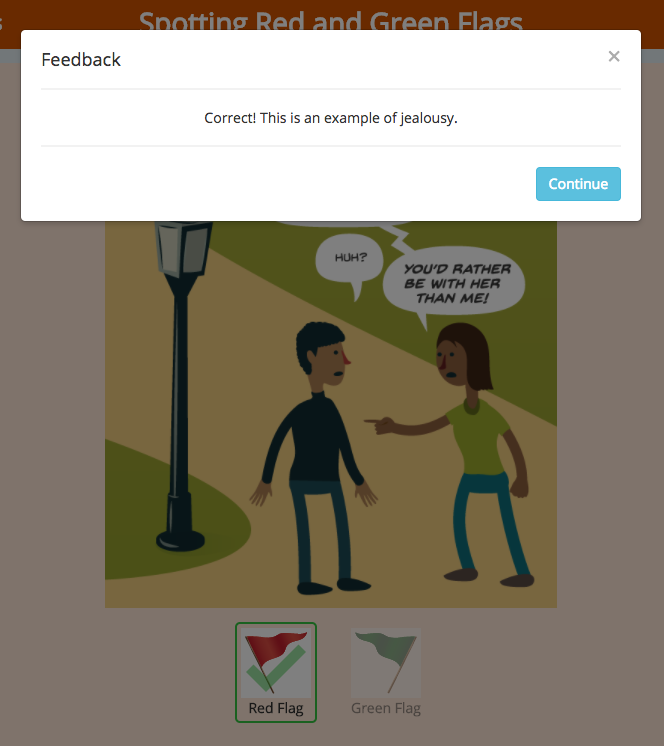 STI Game
This game is played at the very end of the STI unit to test students' knowledge on what they learned about STI's as well as preventing and treating STI's in a fun and entertaining way. Try out the game here!
Video
There are many videos throughout the curriculum. This is so that your student can learn health information through relevant teen experiences. Students get to know the characters whose stories are developed throughout the curriculum
Character Scenario
This is an example of a character scenario. Students will get character scenarios at the end of units that relate to the storyline of their avatar. These character scenarios allow students to take the information they have learned throughout the unit and apply it to likely real-life scenarios.